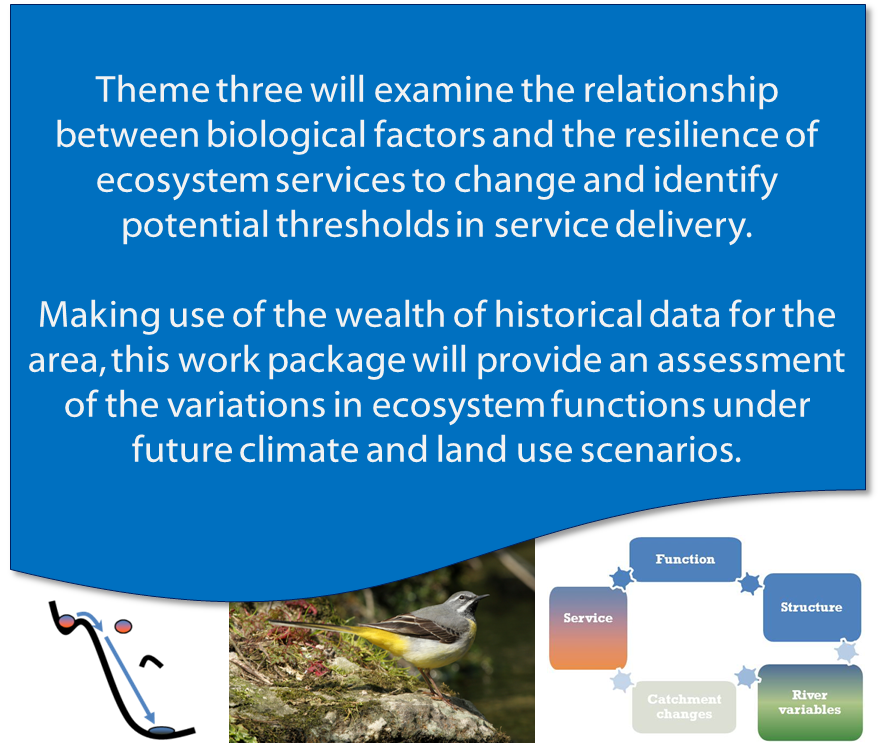 Lead by Prof Steve Ormerod (Cardiff)

Co-Leaders: Dr Isabelle Durance (Cardiff)
Prof Mike Bruford (Cardiff)
Hannah Burton (Cardiff)
Dr Hugh Feeley (Cardiff)
Dr Sian Griffiths (Cardiff)
Dr David Noble (BTO)
Marian Pye (Cardiff)
Dr. Wlodzimierz Tych (Lancaster)
Dr Isa-Rita Russo (Cardiff)
Dr Ian Vaughan (Cardiff)
Prof Andrew Weightman (Cardiff)
Dr Guy Woodward (Imperial)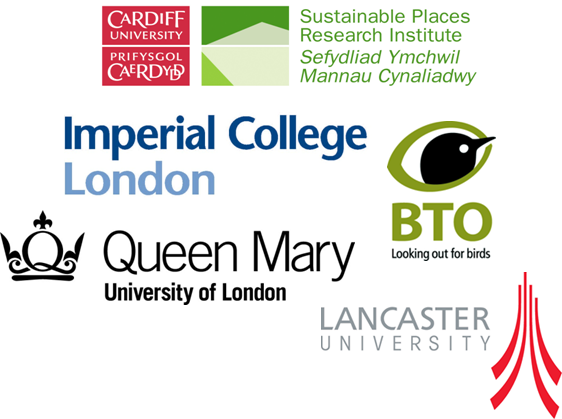 KEY QUESTIONS
How does river biodiversity relate to ecosystem service resilience under environmental change?
At what thresholds does variation in climate and/or land use force regime shifts in river biodiversity sufficient to comprimise ecosystem services?
Which aspects of biodiversity most ensure resilience in service delivery, and therefore indicate ecosystem resilience in ways most relevant to ecosystem services?
APPROACH

The nested design of the overall project encompasses temporal scales relevant to all the organisms studied, from minutes like the stream temperature recordings in Llyn Brianne to decades like the fish densities in the Wye catchment. This range of detail is key to understanding longterm resilience of species and the stability of landscapes.
This work package is split into two components:
WP 3.1 – Resilience indicators over annual to decadal scales (1980's to present)
Using old and new data from taken from our 99 historical sites, WP3 will assess stability in species composition and population and functional stability and will also assess the resilience of catchments of varying land use and chemistry through time in relation to identifiable climate variations in the last 3 decades.
WP 3.2 – Resilience indicators over over daily to annual scales
New data will also be collected to assess short term patterns.
At 8 locations contrasted by land use and apparent stability, detailed water quality and hydrochemical measurements are being carried out at 10 minute intervals. Regular biofilm samples at these sites are analysed at a molecular level and linked to WP experiments to assess resilience to water quality changes.