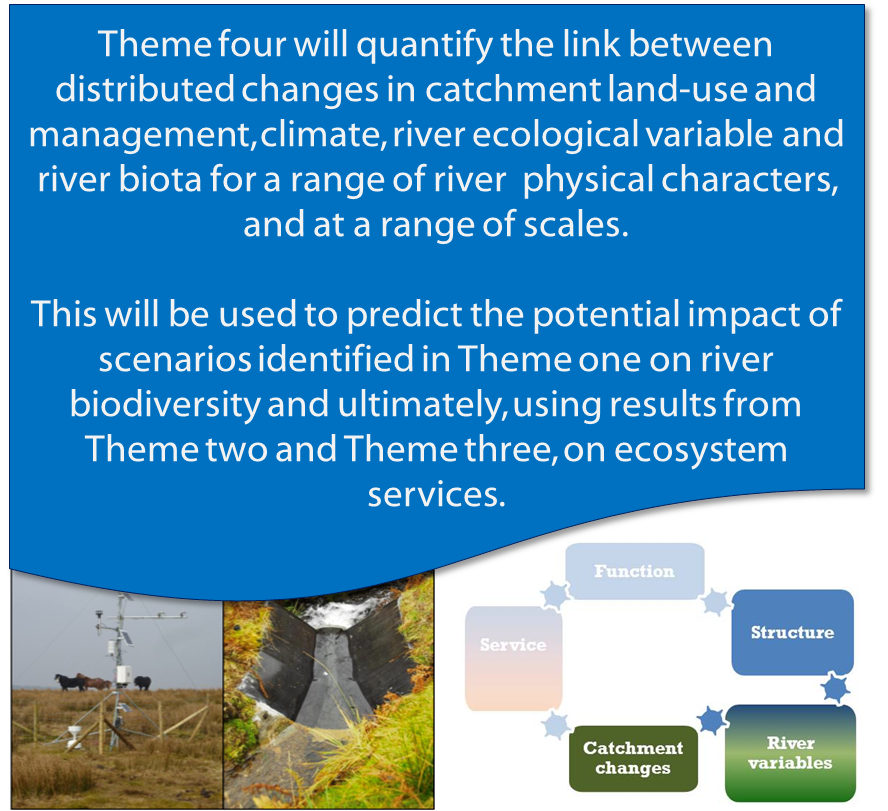 Lead by Dr Nick Chappell (Lancaster)
KEY QUESTIONS
What are the causes of the long and short-term dynamics in biodiversity and water quality in upland rivers and how can they be quantified?
What time-scales (minutes, days, seasons and decades) dominate the dynamics of river biodiversity and water quality for upland Welsh rivers, and what are the implications for sampling ecosystem services?
What is the relative impact of climate characteristics (extremes, seasons etc) versus land-use characteristics on status and change in biodiversity, resilience and ecosystem services in upland rivers?
APPROACH
To understand how the relationships between changes in river character and river biodiversity, two different modelling techniques will be used: classical regression analysis (GAM) and two types of time series models.
This theme will also provide indication on best measures of river condition to inform on biodiversity-dependent services and used alongside the WP1 scenarios, the models will give detail to the biological outcomes.
PROGRESS SO FAR
Since installing the onsite hydrological instrumentation last year, monitoring has been taking place over various time scales. Check back soon for results.
Real time weather data from the Esgair Garn weather station, Llyn Brianne, can be seen here: